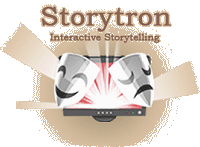 This is an author's guide that we created for potential authors. It complements the tutorial on the website. Whereas the tutorial is more hands-on in style, this approach is more top-down theoretical. Between the two of them, you can get a pretty good idea of how the system worked.

Overview of Components
The Action Cycle
Actors
The Drama Cycle
Props
The Reaction Cycle
Relationships
BNumbers and UNumbers
Bounded Multiplication
Types of Scripts
Scripting
Sentences
Stages
Actor Motion Between Stages
Verbs

This is a useable/browsable implimentation of Chris Crawford's Storytron documentation the "SWAT (or StoryWorld Authoring Tool) authors guide" found at github.com/storytron/storytron-1-authors-guide. A more detailed extrapolation of this material can be found at storytron.pbworks.com.